NO PROBLAIM Werbeträger GmbH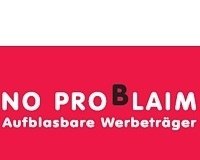 We manufacture inflatable advertising to your specifications!
Advertising is based on making a product unique. So have the promotional material meet these demands. NO PROBLAIM therefore relies on a thoroughly individual care of its customers. We offer inflatable advertising media in various Matarialien and designs. Of columns, arches, advertising to pneumatic advertising - we look forward to hearing soon from you and incorporate your ideas to inflatable.
Operational area
Europe-wide
Correspondence

Company Address:
Schuster-Str. 4
2111 Tresdorf
Austria

+43 (0)2262 646500
+43 (0)2262 646509