AAITF- The No.1 Automotive Aftermarket Industry & Tuning Show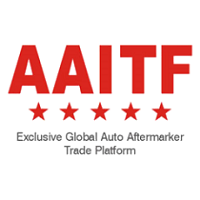 11.05.2012 08:45:28, Jiuzhou Commercial and Exhibition Co. Ltd.
AAITF 2013 - The 9th China International Automotive Aftermarket and Tuning (Guangzhou) Trade Fair, is positioning to build the largest automotive aftermarket trade show in the world. Its organizer, Jiuzhou International Media and Exhibition Group, is dedicated into Auto Industry for 21 years.
AAITF is the premier event accompanying the fast development of China's automotive aftermarket and tuning industry. Since the first debut in 2006, AAITF grows rapidly in recent years to be the world's NO.1 exhibition of this industry. Compared with its first annual of 3,000 square meters in 2006, AAITF 2011 developed into 220,000 square meters, which set a new record for the auto aftermarket trade show worldwide. The show area of 260,000 square meters is expected in AAITF 2013!

URL: www.aaitf.org/en Contact: Rita Lee (Ms)
Tel: 86-20-38219963 Fax: 86-20-38219935
E-mail: info@aaitf.org rita@aaitf.org
Fair organizer:
Jiuzhou Commercial and Exhibition Co. Ltd.
Suit A,Floor 11,Xinchuangju Dasha,No.123,Tiyu Rd.
510620 Guangzhou
China
Tel: +86 (0)20 38219963
Fax: +86 (0)20 38219926

www.aaitf.org
Audience:
professional visitors and general public
Disclaimer: The content of these ...